What New Features Are Coming to Windows 11?
Windows 11 is launching on October 5, introducing the world to the newest operating system set to power millions of devices around the world over the next decade. With plenty of public previews in the wild, Windows Insiders have had plenty of time to learn what's new with Microsoft's latest OS. Here are some of the biggest new features coming to Windows 11 when it launches this fall.
Get a free Windows 11
consultation on us!
New Windows 11 UI
While there have been plenty of improvements to Windows 10 over the years, Windows 11 is poised to shake up the overall user experience to bring Microsoft's operating system more in line with what Apple fans have experienced in the past. The sleek and minimalist "Fluent Design" is creating a more elegant experience for users, with a redesigned taskbar and simplified menus that should make navigating apps a breeze.
Windows 11 Microsoft Teams Integrations
Microsoft Teams has exploded in popularity over the last 5 years, quickly becoming one of the business world's most popular communications apps. Teams is getting a redesign alongside the launch of Windows 11, where it will also be baked directly into the Taskbar as a default communications program. As businesses around the world continue to connect virtually, Teams will be at the heart of the experience in Windows 11 while also connecting to users across Mac, iOS, and Android.
Virtual Desktops and Snap Groups
For many of us, computers are at the heart of our personal and professional lives. Now, Microsoft is bringing a MacOS feature to Windows with enhanced virtual desktops that open different instances of Windows with ease. Imagine a personal desktop, a professional desktop, and a gaming desktop all running simultaneously and accessible within seconds; that's coming in Windows 11.
Snap Groups are also a handy feature for the multitasking gurus making the leap to the new OS. Windows users can already snap windows into each side of the screen to divide their real estate and have more eyes on their work. In Windows 11, Snap Groups allow users to preselect the layout of their windows and keep those layouts ready at a moment's notice.
Widgets in Windows 11
Widgets, the helpful information blocks for everything from weather and traffic to Outlook and news, are back in Windows 11. These actually made a return in Windows 10 just a few months ago, but the feature is being carried over into Windows 11 as more users around the world are taking in top info with a glance at their taskbar. This library of widgets is set to grow exponentially as more third-party developers create innovative solutions to fit each users' needs.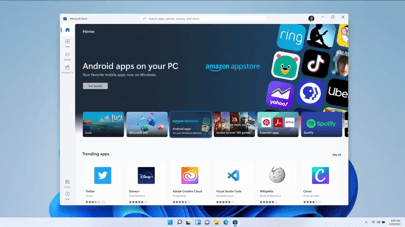 Android Apps in Windows 11
While a partnership with Samsung integrated some Android functionality into Windows 10, Windows 11 is integrating Amazon's App Store directly into the Microsoft Store to give users access to a huge library of popular Android Apps. While it may not have the same popularity as Google Play, the service houses nearly 1M applications that will be coming to Windows 11 in the near future. While Microsoft has confirmed that the feature won't be available at launch, it's sure to be a big hit for many who are already accustomed to today's most popular mobile apps.
SeedSpark is a technology company focused on delivering reliable solutions that help small- and medium-sized businesses succeed. Through their IT expertise and a deep understanding of business, SeedSpark takes a holistic view of each client's organization to implement technology that meets today's needs and prepares their business for tomorrow. The company also provides custom application development, advanced digital marketing solutions, and website development services. Founded in Charlotte, NC in 2006, SeedSpark has been recognized as one of the fastest-growing IT service providers in the United States. Interested in learning more about upgrading to Windows 11 for your organization? Contact our team today to get started.